Escape
What does it all mean?
When women join the group it takes a lot of confidence to step out of the familiar and into a workshop where they may well not know anybody. Many women come out of desperation to escape the situation they find themselves in, where they feel unnoticed, unvalued and unproductive.
They are amazed to see the results they can achieve as part of a group. They can tackle what they would never have expected to and they can see some of their own worth reflected back at them in the beauty of what they achieve together.
This leads to the phenomenon we call the ESCAPE EFFECT, where women gain a lease of life and enthusiasm through being part of a group who have time for them and value them all as individuals.
"The Escape effect has such a powerful and totally positive influence on all who come into contact with it! As elderly women we have all had the experience of feeling that we are life's "has-beens" or "back-numbers". By working together we are able to see again that we have worth and potential, we value each other and ourselves a lot more. By producing objects of beauty together we see ourselves reflected back in a strong, attractive, colourful light!"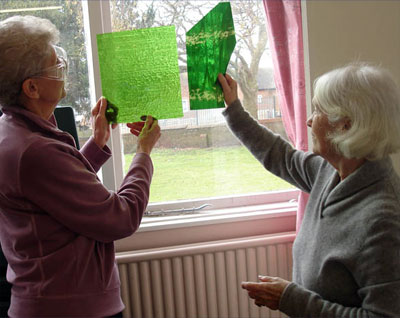 Selecting Glass