Escape
Moving Forward
The ESCAPE group has run several inter-generational projects, where we have invited girls from the local Eastwood Comprehensive School to join us for the duration of a project (usually 6 - 12 full days). In this time we have the chance to break down some of the barriers that divide us in a society where old people are not the only group who suffer from the feelings of isolation and not being understood. It gives both groups a chance to listen to each other in an environment where we are working constructively together and achieving fantastic results.
We are interested in working with other groups to build on this learning and enjoyment of working as a team.
We have organised touring exhibitions to show the public the results of what we can produce together.
We have also produced a dvd showing some of the findings of our Home Front project, "Women's Wartime Tales"
"It was very moving to hear later that being part of the project had made a big difference to one of the girls in particular, and she had really turned her life around and changed from poor attendance to choosing to pick up her studies and gain good results."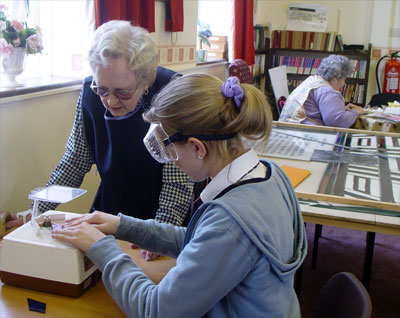 Taking part in an Inter-generational project